Jenny Gould
Composer, Songwriter, Musical Director, Pianist
Welcome to my website!
As you're browsing, you'll find all sorts of information on me and my work as a composer, songwriter, musical director, vocal coach and pianist. You can listen to my music, see DVD clips of my work and read reviews and endorsements from past projects. Drop me an email with any questions, comments or proposals.
I perform live as 'Jenni' and you can check out www.facebook.com/Jenni.songwriter for regular updates on where and when I'm gigging. Just click the Facebook symbol above to go straight there. I'm also working on the final edits for my debut EP with guitarist and producer Richard Carter - launch date early 2015 to be announced imminently!
In the meantime, have a listen below to some extracts from my studio demos made in collaboration with sound engineer and producer John Perry.
New songwriting demos
Below are some extracts from my own songwriting material, demos made in collaboration with sound engineer and producer John Perry. Check the Twitter feed for details of when and where I'm gigging, to hear these songs and many others live.
Extracts from "Your Plan", "Images", "With You" and "November":
I'd love to hear from any singers interested in performing or recording my material - if this is you, please get in touch for a chat!
Nothing Like a Cuppa , Full Circle children's theatre company
Songs of Imaginings, children's songbook
Songs of Imaginings, my collection of children's songs is now available to buy direct from English Philharmonia. Extracts taken from recordings by Finchley Children's Music Group Intermediate Choir, directed by Tansy Castledine
Prince Caspian - Opera Brava
"We commissioned a composer to write the music for a new opera, Prince Caspian. We found a fantastically gifted composer, Jenny Gould, who not only wrote some wonderfully melodic and creative music but also wrote fantastic lyrics AND was a fabulous MD for our half-term project. She has a real gift with children."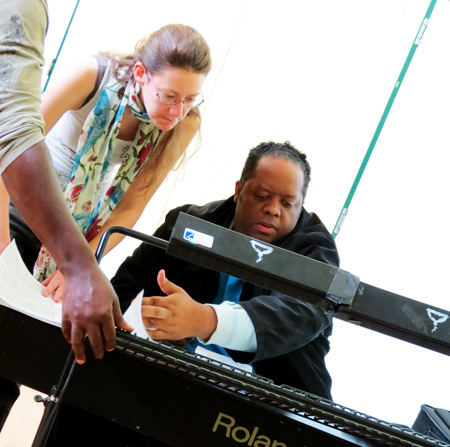 Shadowball
Associate Music Director - Jenny Gould
"Julian Joseph, who composed the opera's score, led his quintet from the piano, and directed proceedings alongside the incredibly engaging co-director Jenny Gould, who was charged with the colossal task of keeping the children engaged and in tow."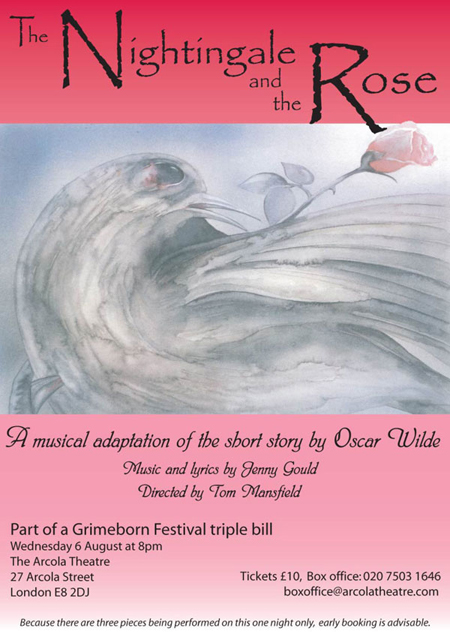 The Nightingale and The Rose
Adaptation by Jenny Gould
"I Can Give You Roses"
"Jenny is a fine theatre composer, her sense of dramatic style and period reflected in her music at all points. I especially enjoyed her work on The Nightingale and the Rose, which demonstrated a fine ear for setting lyrical drama."
If you're interested in putting on a production of The Nightingale and the Rose, please contact me to discuss performance licensing.